"BT's chief executive, Gavin Patterson, is to step down after the company said a change of leadership was needed.
The company said a poor reaction to its latest results, in which BT set out plans to cut 13,000 jobs, had prompted the move.
BT said Mr Patterson, who has led the firm for five years, would remain in his post until a successor is chosen later this year.
He will not now receive the 2018 incentive share plan, worth £3.5m.
Mr Patterson has been at BT for 14 years, 10 of those as a board member.
Under Mr Patterson's leadership, BT established itself as a major sports broadcaster, with the rights to screen a significant number of Premier League games.
But the firm has been criticised for spending money on sports rights, and not on improving both the breadth and speed of its broadband coverage.
Despite this, Mr Patterson managed to head off a threat to split BT's Openreach broadband division into a separate company.
More problems include the £11.3bn deficit in BT's pension fund, and a record £42m fine from regulator Ofcom for delays in installing high-speed lines.
Under his tenure, the company also saw a significant accounting scandal come to light in BT's Italian business.
In January last year, BT wrote down the value of its Italian unit by £530m after it said it had uncovered years of "inappropriate behaviour". That led to Mr Patterson losing most of his bonus for 2017.
Since peaking at nearly 500p in November 2015, BT's share price has steadily slid, and is currently trading at near six-year lows.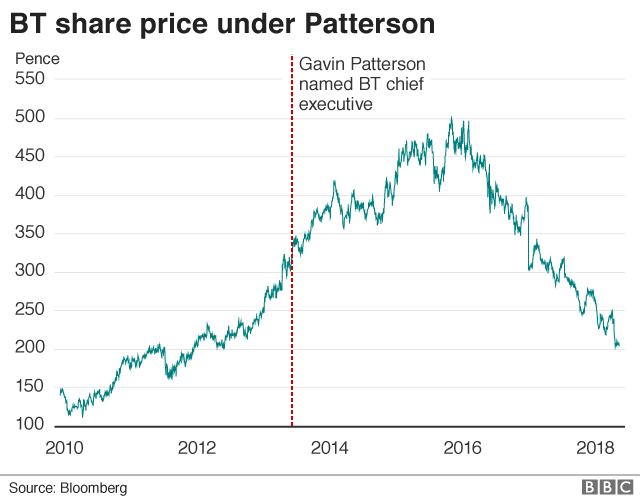 Following the news of Mr Patterson's departure, BT's shares jumped 3% initially, before dropping back to trade at about 202p.
Neil Wilson, chief market analyst for Markets.com, said: "The expensive move into football rights was a mistake and evidence that management lacked focus under Patterson.
"The recent bagging of more games was even more expensive than previous deals. Fundamentally the TV foray seems to have failed as the number of new subscribers each quarter has collapsed and, critically for the strategy, it's not produced the broadband customers that it was supposed to."
The restructuring plan announced last month was intended to cut costs, improve profits and release cash to invest in 5G.
BT chairman Jan du Plessis said the company's board was "fully supportive" of the latest strategy.
However, he added: "The broader reaction to our recent results announcement has, though, demonstrated to Gavin and me that there is a need for a change of leadership to deliver this strategy."
Mr Patterson became managing director of BT's consumer division in 2004. He was appointed chief executive of the BT Group in 2013.
He said: "It's been an honour to lead BT since 2013 and serve as a member of the board for the last 10 years.
"BT is a great business and with the new management team I've recently put in place is, I believe, very well-positioned to thrive in the future.""
‍
Source – BBC News