"It could take two weeks before supplies of carbon dioxide return to normal, the British Meat Processors Association has warned.
CO2 is used to kill farm animals before processing and in packaging to keep meat fresh but is in short supply.
A plant in Billingham, County Durham is due to restart on Monday.
But BMPA chief executive Nick Allen said its members had been told it could take a fortnight for supplies to "return to normal".
Mr Allen told the BBC's Today programme: "It has been one of the frustrations right the way through this crisis that the communication from the producers of CO2 hasn't been very clear."
He said this lack of clarity meant it was "so difficult to plan when you don't know actually what's going to happen".
Last week, Quality Pork Limited, which operates Scotland's biggest abattoir at Brechin, had to close and ship some of the 6,000 pigs that pass through the site down to its meat processing partner, Tulip, in England to prevent overcrowding on farms.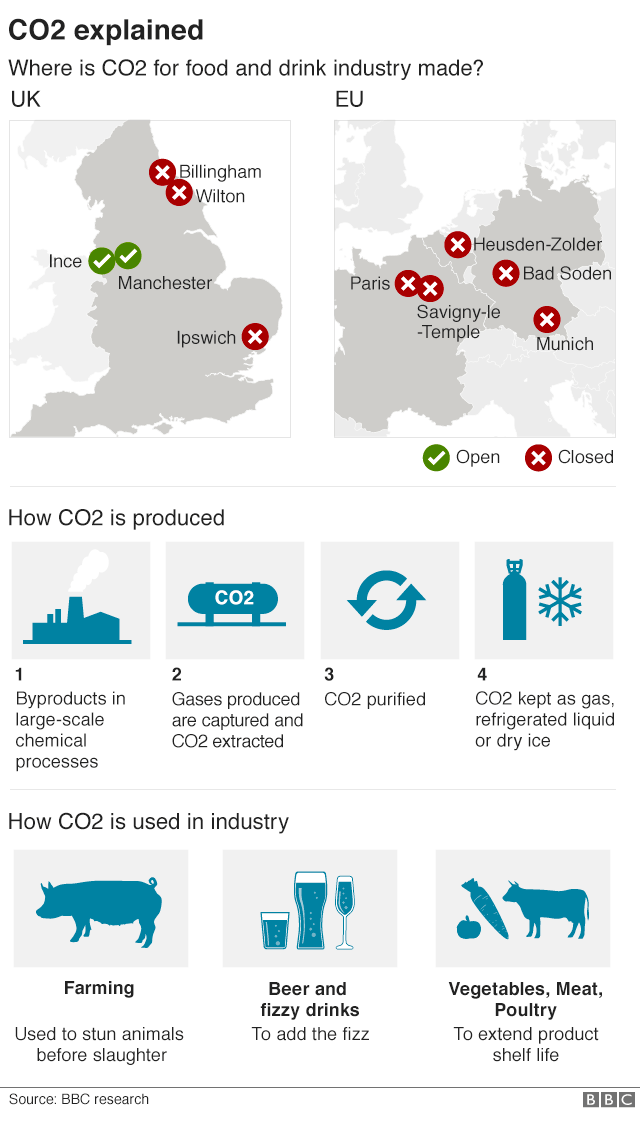 As well as the meat industry, CO2 is also used to put the bubbles in carbonated drinks. Over the weekend, Asda said it was limiting the amount of fizzy soft drinks people could buy online.
It has restricted shoppers to six bottles or multipacks of soft drinks online.
Kate Nicholls, chief executive of UKHospitality, which represents large restaurant and pub chains across the country, said: "We are expecting the situation to get better this week when a major plant comes back online.
However, she added: "It is true that throughout the supply chain we're on to emergency stores of CO2 and if that plant doesn't come back online very quickly, we will be having severe shortages throughout the supply chain."
'The perfect storm'

Mark O'Neill of The Beer and Gas Man, who provides CO2 to about 750 customers in the West Midlands, says that the company had to stop delivering supplies last Tuesday.
"We've just been bombarded with phone calls," he says. "With the hot weather and the World Cup it is the perfect storm. All the pubs are busier using a lot more gas and there's just none to go around."
Mr O'Neill says that businesses are so desperate for CO2 that they are willing to drive hundreds of miles – and pay any price – for the gas.
He says: "We've had phone calls from people in Brighton, Wales and Altringham who are willing to drive to the Midlands to pick up one or two bottles and offered to pay whatever I wanted to charge but we obviously couldn't because we're completely out of stock."
Government meeting
Warburton's, which is the UK's largest producer of crumpets, was forced to halt production at two of its four plants last week because of the shortage.
It uses CO2 in its packages to give them longer shelf life and prevent mould.
A spokeswoman for Warburton's said: "We are under the impression that supplies are supposed to coming on today."
However, she said the bakery firm did not know for sure when supplies of CO2 would reach its plants.
The BMPA's Mr Allen said that the Department for Environment, Food and Rural Affairs will hold a meeting on Monday where government departments, industry and trade associations "will pool their information"."
‍
Source – BBC News