"Donald Trump has said Harley-Davidsons should "never" be built abroad, as he attacked the firm's plans to move some production overseas to avoid European tariffs.
Mr Trump said the iconic bike brand's new Thailand plant marked a "surrender" and "the beginning of the end".
Last week, the EU imposed retaliatory tariffs on US goods, including bourbon, orange juice and motorcycles.
Harley-Davidson says the increased costs are a "substantial" burden.
The EU tariffs are a response to new US duties on steel and aluminium imports.
Mr Trump also accused Harley-Davidson of making the decision to move some production to Thailand before the current trade dispute erupted, and of using the tariffs as an "excuse".
But the firm – which also has plants in Australia, Brazil and India – said it planned the new plant after Mr Trump withdrew from the Trans-Pacific Partnership (TPP) trade deal, which would have lowered tariffs in Asia.
Taking aim at the iconic motorcycle brand on Twitter, the president said the company's employees and customers were "already very angry at them" because "they surrendered, they quit!"
Mr Trump also said if they continued with their plan to move production to Thailand, "the Aura will be gone and they will be taxed like never before!"
In a series of posts, the president suggested Harley Davidson would not be able to sell bikes back into the US from Thailand "without paying a big tax".
However Harley-Davidson says it operates four factories in the US.
Mr Trump's row with the bike brand began on Monday after Harley-Davidson said manufacturing for the European market would be transferred from the US to other countries.
He expressed surprise that the company had become "the first to wave the white flag", adding: "I fought hard for them."
He also said the US was "opening up closed markets" with its new tariff system, and said the country would soon finish its study into tariffs on car imports from the European Union.
Mr Trump previously threatened to impose a 20% tariffs on EU cars after the bloc imposed its retaliatory tariffs.
White House press secretary Sarah Sanders also told reporters at a briefing on Monday that the EU was "attempting to punish US workers with unfair and discriminatory trade policies".
"President Trump will continue to push for free, fair and reciprocal trade, in hopes that the EU will join us," Ms Sanders said.
Absorbing costs of EU tariffs
Harley-Davidson says it will raise investment in its international plants, though it did not say which ones, adding that it expected the increase in production to take nine to 18 months.
It said the tariffs would add, on average, $2,200 (£1,660) to each bike exported to Europe from the US as the import tax increases from 6% to 31%.
The company, which sold nearly 40,000 motorcycles in Europe last year, said it planned to absorb those costs rather than pass them on to customers and risk damaging sales.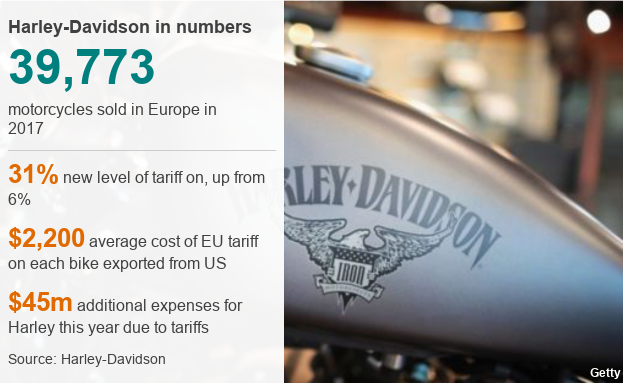 Some US unions however are not supportive of the motorbike maker's decision to move production abroad.
The International Association of Machinists and Aerospace Workers, which represents some Harley employees and has supported some of the president's tariff announcements, said the decision was "in keeping with Harley's past decisions to open plants outside of North America."
"Will Harley use any excuse to ship jobs overseas?" said Robert Martinez Jr, the union's international president. "Does Harley even understand what 'Made in America' means?"
United Steelworkers, which also represents Harley workers and has backed tariffs, said it does not know yet how the company's decision will affect employment.
"Domestic sales are what drive production and employment at Harley's US facilities," said Michael Bolton, a district director for United Steelworkers, who added that the company should focus on US production if it wants "to continue to market itself as an iconic American brand".
Media captionHow hogs and Harleys became weapons in a looming trade war.
Harley-Davidson's move is one of the most visible consequences of the trade disputes triggered by President Trump's decision to levy tariffs on steel and aluminium imports.
Mr Trump says the duties are necessary to protect the US steel and aluminium industries, which he says are vital to national security.
They have drawn retaliation from the EU, Canada, Mexico, India and others while driving up the cost of metals for US manufacturers.
US companies ranging from boat-builders to nail manufacturers have warned about the consequences of escalating trade tensions."
‍
Source – BBC News