"The bad weather looks set to send a chill over Britain's economy, with warnings of a short-term hit to growth.
The impact on sectors such as retailing and construction could halve the 0.4% GDP growth many economists had forecast for the first three months of 2018.
Retail expert Phil Dorrell said the big freeze could be a "disaster" for the high street as people staying home turned to more shopping online.
One small firms group said its members would lose £7,000 each on average.
Economist Howard Archer, chief adviser to the forecasting group EY Item Club, said the snow's impact meant that the UK's first quarter GDP may be reduced by 0.1%, or up to 0.2% if the severe weather persists.
It affected not just construction and shops but the supply chains of big business, restaurants, and the travel sector.
"There will obviously be a significant hit to UK economic activity," said Mr Archer, although he added that it was "important to bear in mind that much of the lost activity will eventually be recouped".
Also, the increasing ability of people to work from home would help limit the economic damage, he said.
But some sectors could be particularly vulnerable to sudden shocks. The collapse of Maplin and Toys R Us underlines problems for the high street. And several restaurant chains have run into trouble.
A survey published this weekend by the CBI employers' group said that trading conditions for consumer-facing firms were still tough.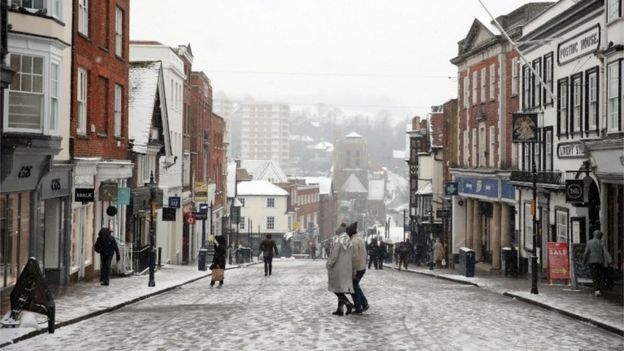 Mr Dorrell, managing partner of Retail Remedy, said bricks and mortar retailers will be hit hard by the sub-zero temperatures and gale-force icy winds.
"Anything that takes footfall away from shops reduces spend, and pushes spend towards the internet.
"In the short term, it's very much a disaster. If you go down to the nearest road you will see that traffic is significantly less than it was previously, so most parts of retail will be hurting at this point."
The Federation of Small Businesses (FSB) said many high streets have looked liked ghost towns over the past week.
Firms "will feel the pain of the temporary drop in trade", said Mike Cherry, the FSB's chairman.
"Even among those which have battled on, many have been affected by customers or supplies being unable to reach them.
"The financial cost of severe weather events on small firms averages at around £7,000 for each affected business.
"It comes at a time when many have been affected by rises in business rates, increasing employment costs and the effects of the weak pound," Mr Cherry said.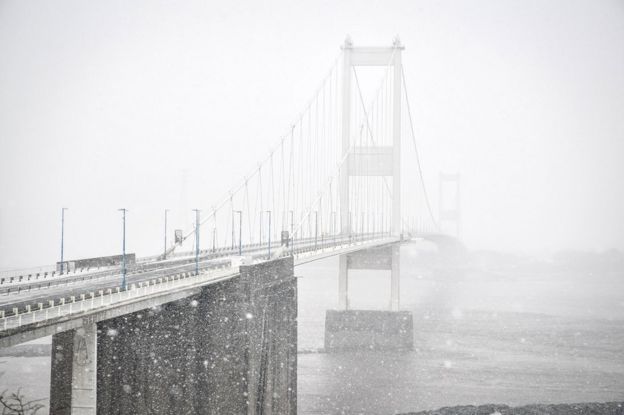 The hit from the weather comes amid signs that British businesses generally are showing signs of improved health, although retailing remains in the doldrums.
The CBI survey suggests companies expanded at their fastest rates in more than two years in the three months to February.
The CBI's monthly growth indicator – based on its surveys of how much businesses' output has changed over the previous three months – more than doubled to plus-20 in February, from plus-9 in January, reaching its highest since December 2015.
Growth was far above the long-run average across most sectors except retail, the CBI said. But it forecast that conditions would remain "challenging" for consumer-facing companies and retailers this year."
‍
Source – BBC News (http://www.bbc.co.uk/news/business-43277556)
Cover Image Credit: best villages near Godalming, Surrey