"Marks and Spencer has suffered a big fall in annual profits following a costly store closure plan.
Annual pre-tax profits fell by almost two-thirds to £66.8m as sales of food, clothing and homeware all declined.
On Tuesday the retailer said it plans to close 100 shops by 2022, accelerating an overhaul that it says is "vital" for its future.
The expense of closing stores and revamping the business cost M&S £321m in the 12 months to March.
M&S has already shut 21 stores and revealed the location of 14 further closures on Tuesday.
"This modernisation programme … is to close some of the small stores where we can't give the full offer, and show customers in our better stores, our bigger stores the full range of what M&S does," chief executive Steve Rowe told BBC Radio 4's Today programme.
"It is a catch-up programme, we have to make sure we don't stop modernising our estate and that we give our customers the stores that they deserve."

Analysis: Emma Simpson, BBC business correspondent
Once again, M&S has posted another set of falling sales and profits. Revitalising this 132-year-old business is costing it dear, but what's more striking is the sober message and language that accompanied the numbers.
Marks had become a top heavy business, inward looking, "too corporate" and had lost its appeal to family-age customers. The need for change had become more urgent. Vast sums have already been spent on a new website and a £200m fulfilment centre at Castle Donnington under the previous boss.
Eyebrows will now be raised that the new warehouse is already struggling to cope with demand and that website is too slow. M&S still has a mammoth challenge ahead to revive its fortunes.
But at the end of the day, it all comes to down to having the right product, the right availability at the right price. Closing stores is one of those difficult tasks. For the clothing and home shops that remain, the company has to make sure that there is a compelling enough offer to pull shoppers in.

Mr Rowe declined to say how many jobs would be lost as a result of the store closure programme.
"We're assessing this on a store-by-store basis and are committed to redeploying our colleagues wherever possible," he said. "In the last round of closures, 86% were redeployed to another store and we want to have continuity."
M&S has been criticised for failing to revive its clothing range. Mr Rowe said the retailer had made its clothes "more contemporary" and pointed out that, for the first time in seven years, it had gained customers in womenswear.
The company also wants internet sales to account for a third of its business, but it admitted that its online performance was behind its competitors and the website was too slow.
Mr Rowe said: "Our product pages need to download quicker than they are if they are to be the best in class and our search needs to be made easier.
"We are doing those changes to the website now and are continuing to treat this as business as usual. Making the website fit for the future is largely covered in our core operating costs."
One big problem is the company's distribution centre in Castle Donington, which handles online orders.
"It is a difficult thing for us at the moment," Mr Rowe said. "It has failed in its customer proposition and that's not good enough at a time when customers want more merchandise delivered quicker."
He said M&S aimed to expand the website to better compete against its rivals.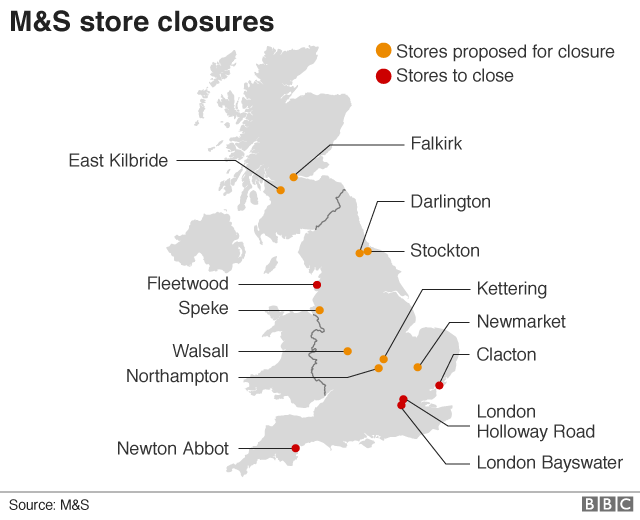 'Well behind'
Neil Wilson, chief market analyst at Markets.com, said M&S needed to quickly revamp online: "You can boost profits with fewer stores only if you can drive online sales growth and, on that front, M&S is well behind."
Bryan Roberts, retail analyst at TCC global, said: "In clothing we've seen green shoots of recovery, but the business still lacks any sense of identity … M&S used to be famous as a destination for certain products, such as good quality school uniforms, but that's been lost somewhere along the way. A back-to-basics approach should help it reclaim ground lost to stores less beholden to a seasonal structure."
Last year sales of clothing and homeware slid 1.9% on a like-for-like basis, which strips out the effect of new stores, while like-for-like food sales also declined by 0.3%.
The results were not as bad as some analysts had feared and shares in M&S rose 4.5% in morning trading to 305p.
However, the share price is still down more than a fifth over the past year.
‍
Source – BBC News