"Rupert Murdoch's 21st Century Fox has said it would sell off Sky News to Disney or ring-fence it to try to allay regulatory concerns over its proposed acquisition of Sky.
Fox wants to buy the 61% of Sky it does not already own.
But it faces regulatory problems after the Competition and Markets Authority found the £11.7bn deal was not in the public interest.
Fox had already pledged to ensure the independence of Sky News.
The Murdoch family's news outlets are currently consumed by nearly a third of the UK's population across TV, radio, online and newspapers.
The Murdoch Family Trust controls News Corporation, which publishes newspapers including the Sun, the Times and the Sunday Times.
Sky was one of the top gainers on the FTSE 100 in morning trading on Tuesday, with shares up about 1%.
What is the ring-fencing proposal?
Under the proposed new deal, the news channel would become a distinct company within Sky, run by the head of Sky News.
Funding for Sky News would also be guaranteed for 15 years. Previously, Fox had said it would be funded for 10 years.
The executive chairmen of Sky, Rupert Murdoch and his son Lachlan, and the chief executive, Chase Carey, would not try to influence editorial decisions made by the head of Sky News, according to a statement by 21st Century Fox.
The company had already proposed remedies to the CMA's concerns, including having an independent board for Sky News.
However, critics of that proposal, including politicians such as Ed Miliband, Vince Cable and Kenneth Clarke, had said that the head of Sky News would still be appointed by the head of 21st Century Fox and so could be influenced by the Murdochs.
Fox hit back at those politicians on Tuesday, saying their assertions were "unsupported and fanciful".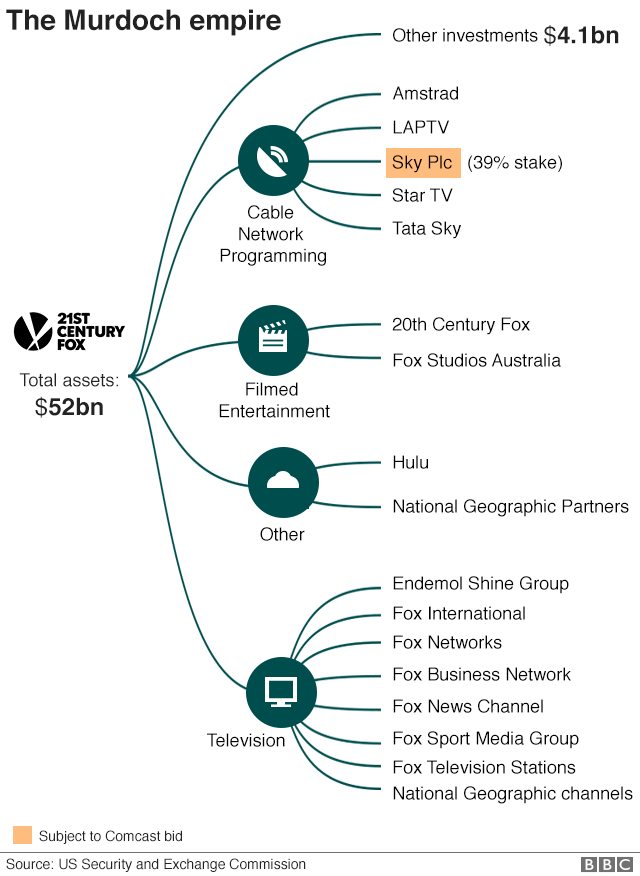 What is the new Disney proposal?
Fox also proposed selling off Sky News to Disney, whether or not Disney's proposed acquisition of Fox goes through.
Disney's proposed takeover of 21st Century Fox, which has yet to be approved by regulators, includes Fox's current 39% stake in Sky.
Even if that takeover gets knocked back, Sky News would still be sold off under the new proposal.
Disney chief executive Bob Iger is keen on Sky and has said he is "committed" to Sky News, which is loss-making.
US media giant Comcast has also thrown its hat into the ring for Sky with a £22.1bn bid in February.
Comcast has a broadband division serving 29 million US customers. It also owns NBC and Universal Pictures and wants to buy a majority stake in Sky.

What do Sky shareholders think of the proposals?
Analysis: Simon Jack, business editor
This is great news for Sky shareholders.
If Sky News is sold to Disney or legally separated from the rest of Sky, then the thorny issue of Murdoch control over Sky News – to add to the Sun, the Times and the Sunday Times – is finally laid to rest.
What we will then have is a straight shoot out between 21st Century Fox and US rival Comcast to acquire Sky.
A proper auction between those two bidders will mean a higher price for Sky.
Currently Fox is offering £10.75 per share and Comcast has indicated it would be prepared to bid £12.50.
Directors at Sky are pretty confident that Fox will have to come in with a better offer.
At that point, we will see how serious Comcast really is in its bid to derail Rupert Murdoch's carefully laid plans to sell Fox to Disney and effectively dismantle a media empire it has taken a lifetime to build."
‍
Source – BBC News