"Netflix shares plunged by more than 14% in after-hours trade on Monday, after the firm reported disappointing subscriber growth.
Netflix said it added 5.2 million subscribers in the three months to the end of June, the same number it did during the period last year.
The streaming service had forecast growth of 6.2 million.
The decline in share price follows a successful run for the stock, which had roughly doubled so far this year.
The firm's shares ended Monday's trading session at about $400, but tumbled by 14% after the market closed as investors digested the firm's quarterly results.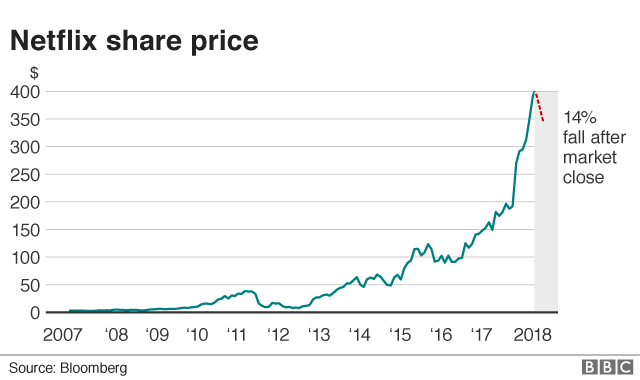 Investors are worried about Netflix's growth potential in the face of increased competition from tech giants such as Apple, YouTube and Amazon, as well as traditional firms, which have started to invest more in online streaming.
Disney, for example, plans to launch its own streaming service and stop licensing some of its material to Netflix.
Netflix acknowledged the challenges, but said its strategy is to "keep improving".
"We believe that consumer appetite for great content is broad and that there is room for multiple parties to have attractive offerings," it said.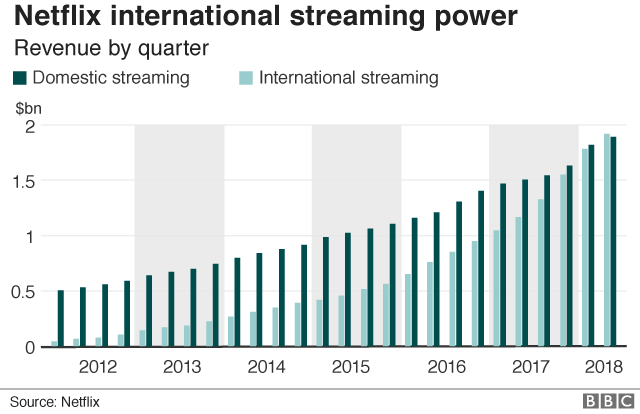 In a letter to investors, Netflix called it a "strong but not stellar quarter", ending with about 130 million subscribers globally.
The firm added just 670,000 subscribers in the US – far short of the more than one million it added in the second quarter of 2017.
It added 4.5 million subscribers internationally, fewer than the two most recent quarters but up 8% year-on-year.
However, it said its finances were strong. The company reported $3.9bn in quarterly revenue, up 40% compared to the second quarter of 2017.
Profits totalled $384.3m, almost six times the figure during the same period a year ago.

Analysis:
Dave Lee, BBC North America technology reporter, San Francisco
In its note to investors, Netflix pointed out a landmark achievement ahead of this year's Emmy's – it had, for the first time, earned more nominations than rival HBO. A huge stamp of approval for the firm's original content.
But critical acclaim is worthless to Netflix unless it translates into booming business. Growth is the only metric that really matters to the firm's investors, and so this is a big miss – reflected in the stock price tanking on Monday.
However, investors might be wise to not lose their heads – this disappointing earnings report comes off the back of two extremely strong quarters of comfortably beating expectations on adding subscribers.
Netflix said its strategy will be to "simply keep improving" as more players start to step up their efforts to muscle in on its turf."
‍
Source – BBC News