"Inflation remained at 2.4% for the third month in a row in June, according to the Office for National Statistics, after clothing prices fell.
The Consumer Price Index (CPI) measure of inflation had been expected to rise to 2.6% last month.
However, the summer sales weighed on inflation after clothing prices were cut, in particular on men's fashion.
The unchanged figure means that wages remain above inflation despite pay growth slowing to 2.7%.
The pound fell against the dollar following the surprise reading, slipping 0.60% to $1.3037.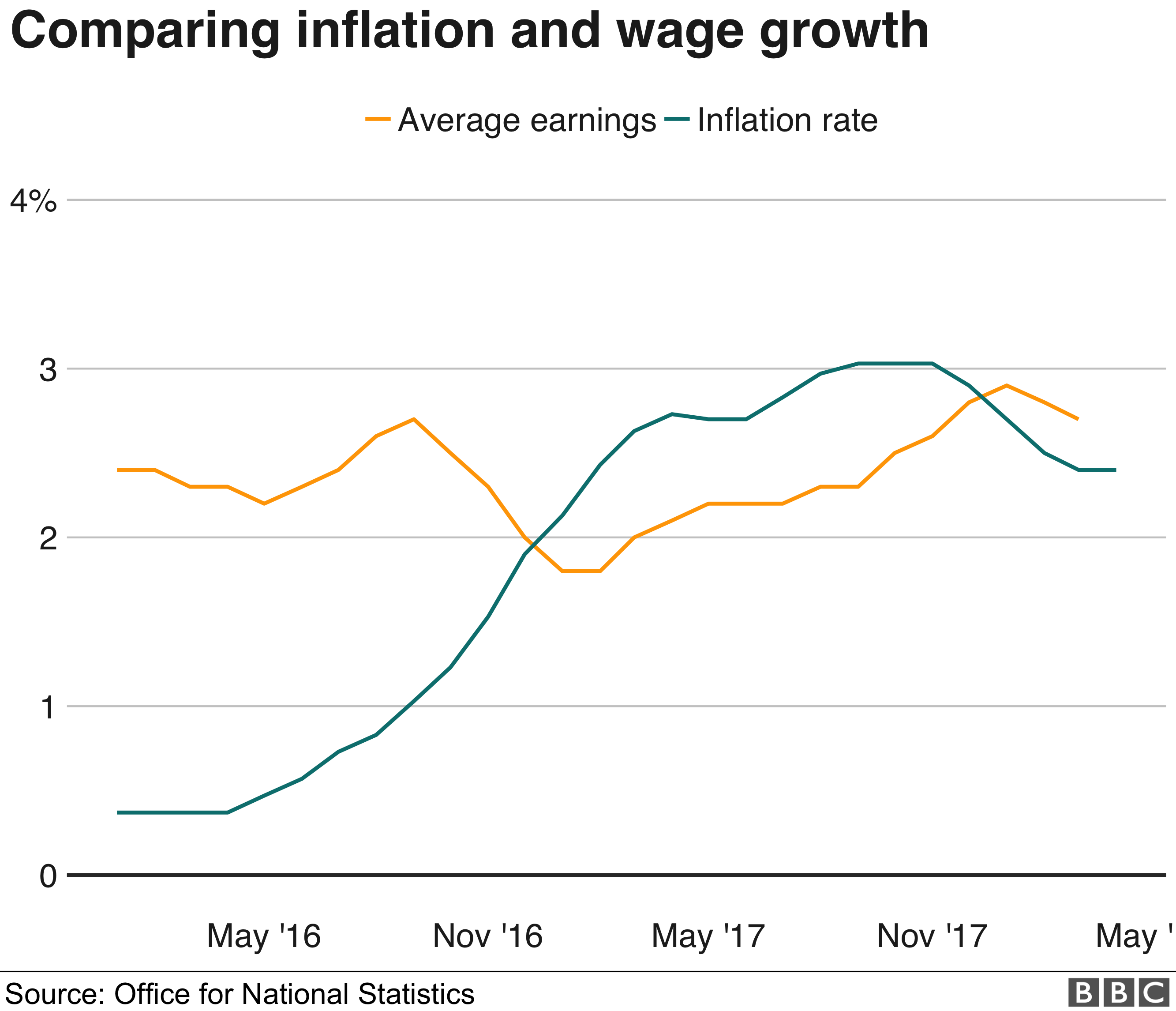 There had been expectations that the Bank of England would raise interest rates in August.
But Ben Brettell, Senior Economist, Hargreaves Lansdown, said that June's figure meant it is not "a done deal".
He said: "Markets had been pricing in around an 80% chance the Bank would lift borrowing costs in August, but today's inflation data combined with yesterday's lacklustre wage growth figures could force policymakers into a rethink."
Neil Wilson, chief market analyst at Markets.com, said: "The Bank of England's policymakers seem to be guiding a hike and the market has quietly acquiesced but data this week does not support the case for an imminent raising of rates.
"My bet is the Bank will – as in May – be forced by softer data to be forced away from raising rates too quickly."
Summer sales
The ONS said that the price of clothing and footwear fell by 2.3% between May and June compared to a 1.1% decline in the same period last year.
While it said it was normal for prices to drop at this time of year due to the start of the summer sales season, the ONS said the fall was the largest since 2012 and "the effect came mainly from men's clothing".
The price of computer games also fell. The ONS said: "Prices for these games are heavily dependent on the composition of bestseller charts, often resulting in large overall price changes from month to month."
However, the cost of motor fuel and household energy prices rose to keep inflation steady.
Petrol prices rose by 2.7p per litre to 128p between May and June 2018 – the highest average price since September 2014.
Diesel prices also rose, up 2.9p to 132.1p. Both petrol and diesel prices fell between May and June last year.
Mike Hardie, head of inflation at the ONS, said: "Consumers have been feeling the benefit of the summer clothing sales, and computer game prices have also fallen.
"However, gas and electricity and petrol prices all rose, with consumers seeing the highest price at the pump for nearly four years, with inflation remaining steady overall.""
‍
Source – BBC News