"The owner of Clydesdale Bank and Yorkshire Bank, CYBG, has agreed to buy Virgin Money for £1.7bn.
Under the deal, all the group's retail customers will be moved to Virgin Money over the next three years.
It will be the UK's sixth-largest bank, with about six million customers, but 1,500 jobs are likely to go.
CYBG said it had agreed with Sir Richard Branson's Virgin Group to license the Virgin Money brand for £12m a year, rising to £15m later.
Virgin Group is Virgin Money's biggest shareholder with a 34.8% stake in the business.

Analysis: Kevin Peachey, BBC personal finance reporter
Nimbleness and the ability to attract customers through new technology have been seen as challenger banks' main attributes.
That is why the Open Banking scheme – opening traditional accounts to specialist services from smaller players – appeared to be a potential game changer for fintechs and banking upstarts.
But the TSB fiasco may well have damaged consumer confidence in these companies being able to provide more customer-friendly tech than the big banks.
With this deal, the focus shifts to a more traditional form of competition – growing a business to a sufficient size to take on the incumbents at their own game.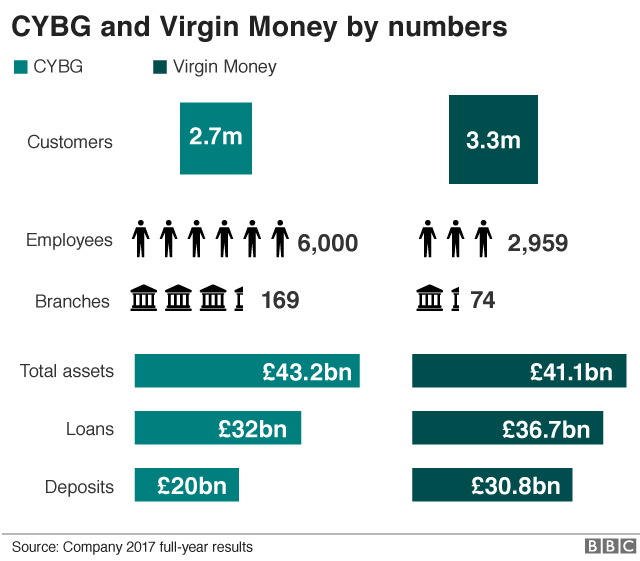 Under the terms of the deal, Virgin Money shareholders will get 1.2125 new CYBG shares for every Virgin Money share they hold, and will end up owning about 38% of the combined business.
CYBG said the combined group would have about 9,500 employees, but it intended to reduce that total by about one-sixth, suggesting about 1,500 jobs would go.
It said some of those job losses would be achieved "via natural attrition".
Virgin Money, which was founded in 1995, expanded its business in 2011 when it bought the remnants of Northern Rock for about £747m.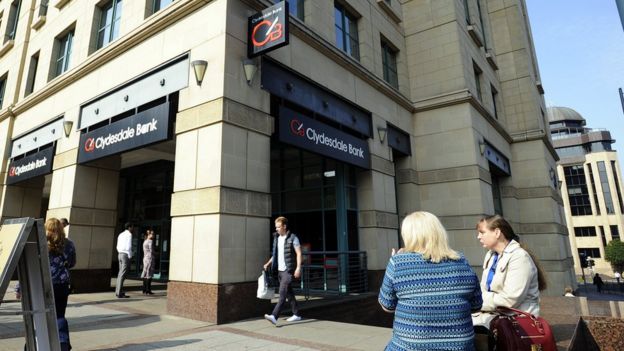 CYBG said the takeover would "bring together the complementary strengths of two successful challenger banks to create the UK's first true national competitor to the large incumbent banks".
Its chief executive, David Duffy, told the BBC's Today programme: "We're going to become a competitor of scale."
He added that "technology and agility" were the factors that would decide the future of banking.
"I think we have sufficient scale – the brands, the product and the technology," he said.
"We can be agile enough to deliver a much better deal for the customer."
Mr Duffy will retain his current position in the combined group, as will CYBG chairman Jim Pettigrew.
Virgin Money chief executive Jayne-Anne Gadhia has agreed in principle to stay on as a consultant for a limited time after the deal goes through."
‍
Source – BBC News